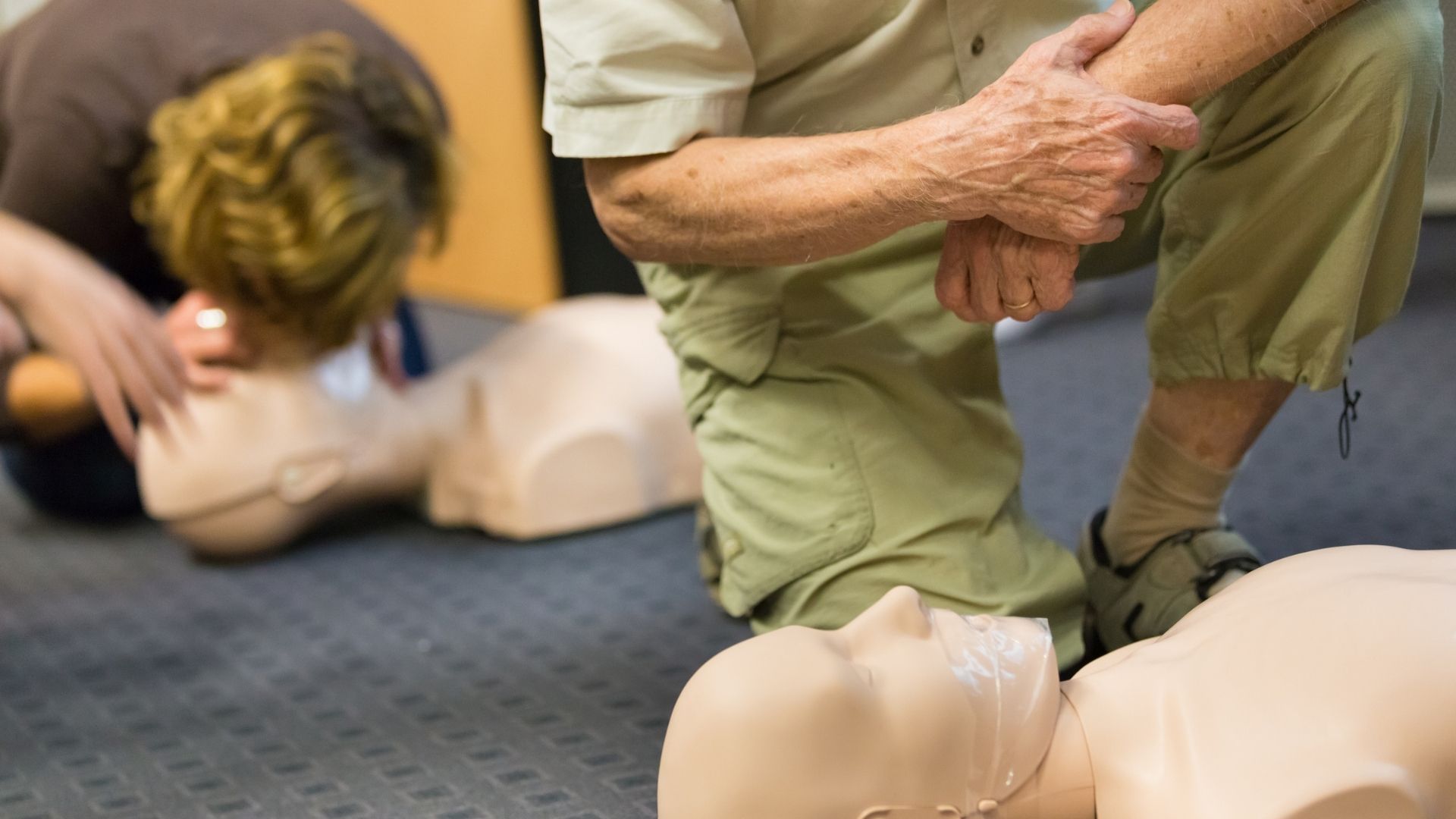 When you're considering learning CPR, you might be asking, "What is the average cost of CPR certification Classes in Austin?" CPR and AED skills are not only obligatory for first responders or healthcare workers, but a collective responsibility. Nearly 1,000 people in the US have EMS-assessed non-traumatic OHCA daily, and the survival to hospital discharge is about 10%.
To raise awareness about administering CPR and saving lives, Austin offers its citizens CPR certification providers with different types of classes and formats, among other factors that determine the final price.
In this article, we break down how CPR certification providers decide their prices in Austin, which will hopefully help you find the best provider.
Factors Influencing the Average Cost of CPR Certification Classes in Austin
Austin is another in the line of cities with multiple CPR possibilities, where all interested candidates can pick a class according to their timetable and budget. There are several important factors that influence the prices for CPR Certification classes in Austin.
Below, we elaborate on the major ones in detail:
Types of Classes
There are different types of classes constructed to meet client's goals and objectives. Namely, there are:
Adult-only CPR: These classes cover the rescuing procedure in case of cardiac arrest for persons over 12 years old. The curriculum of this CPR category includes only the basics of the rescuing procedure.
Infant & Children CPR: These classes are separate from other CPR classes and focus only on children and infant CPR techniques. Due to the vulnerable physique of children, and especially infants, this type of CPR class comprises different methods.
All-inclusive CPR: Just as the name suggests, these classes cover adult, children, and infant CPR in one. These classes are recommended for medical staff or any person working in the healthcare industry. However, they are accessible to the general public, and anyone that wishes to learn all-inclusive CPR can sign up.
You should note that some CPR certification providers in Austin include course book materials in the overall price, and others leave it out as an extra cost. Ensure that you always read the course details to see if you will have additional charges. If it is not specified, reach out to the customer support team.
Ultimately, with providers like the American Red Cross, you may take separate courses. In case you ever need an all-inclusive certificate, you may take the missing class only and earn a valid certificate after passing the exam. No need to retake the same course again.
Level of CPR
Another significant factor that affects the price is the level of CPR classes. You may notice that the adult-only CPR classes cost less than the all-inclusive ones, whereas the baby and children CPR is somewhere in the middle of the price scale.
This is because the Adult CPR classes are the basic level of CPR or Level A. The infant and children (you may also find it under Pediatric CPR) are Level B, and the all-inclusive, or the Basic Life Support (BLS), costs the most.
Each of these levels has a specific duration, material scope, and practical exercises that sum up the price.
Form of Classes
The final factor that determines the price of a CPR course in Austin is the form of the class. Nowadays, to fit everyone's schedule, there are online, in-person, and blended or hybrid classes. They all come with their advantages and disadvantages.
Online classes are convenient, as you may learn from the comfort of your home. Plus, there are pros, like not having to pay extra fees for commuting. However, a significant disadvantage is that online learning may not be the best way to learn how to give CPR. This is because it focuses more on the theoretical than the practical part.
In-person classes include the theoretical component of the CPR class, but they also involve practical exercises where candidates can show their learned skills on manikins while being monitored by certified experts. However, a significant downside of this form is the limited number of participants.
Hybrid or blended classes come as the best option because participants can follow the course in person and join online whenever they are unavailable. Since these types of classes come with the ultimate comfort online and in-person forms of learning can offer, they cost the most.
Average Cost for CPR Certification Classes in Austin from Different Providers
To minimize fatalities from OHCA, Austin responded to the alarming number of cardiac arrests outside the hospitals registered by the American Heart Association by implementing defibrillators in the most common public places.
These AEDs are most often found in places where the most cardiac arrest casualties have been registered. People skilled in CPR and AED can now use them and prevent deaths or neurological impairments from delayed help.
Additionally, Austin CPR certification providers contribute in raising awareness about CPR skills by promoting various programs to fit people's goals, expectations, schedules, and budgets. Below, you may check out the main comparison of CPR certification providers in Austin regarding prices:
Online
In-person
Hybrid/Blended
Adult CPR Class
Red Cross Organization: $37
My Certifications Online: $29.95 (inluded AED) or $24.95 (without AED training)
Red Cross Organization: $42 (if the candidate passed the online form) or $70 (included theoretical + practical component)
CPR Training Austin: $40
CPR Savers: quote based
Children & Infant CPR Class
Red Cross Organization: $37
My Certifications Online: $29.95 (included AED) or $24.95 (without AED training)
Red Cross Organization: $82 (if the candidates took part in the online class) or $90 (included theoretical + practical component)
Red Cross Organization: $88
All-inclusive CPR Class
Red Cross Organization: $37
My Certifications Online: $29.95 (included AED) or $24.95 (without AED training)
CPR Certification Austin: $59.95
Austin TX CPR Classes: $75
Red Cross Organization: $82, $88, $100 (price varies due to duration of class)
CPR Savers: quote-based
According to these figures, we can round up the average price for:
Online Classes: varies between $30-$40
In-person classes: $60-$90
Hybrid Classes: $80-$120.
Tips on Finding the Best Provider of CPR Certification Classes in Austin
The key to finding the best CPR Certification Class provider in Austin for you is to evaluate your goals and objectives. Do you need a CPR certificate for your job, or do you simply want to sign up for a course to get familiarized with the basic life-saving skills that may come in handy?
There are many online courses that come with budget-friendly prices and promise to teach you the skills of CPR for adults or children. However, a key factor here is that they may not be OSHA or AHA-certified. Additionally, candidates should check if the provider issues certifications in the form of cards. Some companies do not accept cards, so you may still end up paying extra costs to access a high-end class, especially if it's required for your job.
Besides, always focus on your goal before you choose the provider. As we discussed above, since some classes cover both adult and pediatric CPR, the price will normally be doubled. So, if you're already familiar with adult or pediatric CPR, only apply for a course for one of them.
Ultimately, if you need an all-inclusive certificate or work in a health organization, always check for course specifications to find out if the course extends to healthcare workers.
Average Cost of CPR Certification Classes in Austin: Final Say
So, what is the average cost of CPR certification classes In Austin? Namely, the price for CPR certification class is determined based on the:
Type of class: Adult CPR, Children and Infant CPR, All-inclusive;
Level of CPR: Level A, B, C;
Form of Class: Online, in-person, or hybrid/blended.
Before enrolling in a program, make sure to reread the course details and see if you will get a certified instructor for the practical training. It's also wise to check if the program is OSHA-compliant, whether it offers certification renewal details, etc.
There are many cheap providers, but they may not meet your requirements, making the CPR or certification card invalid.