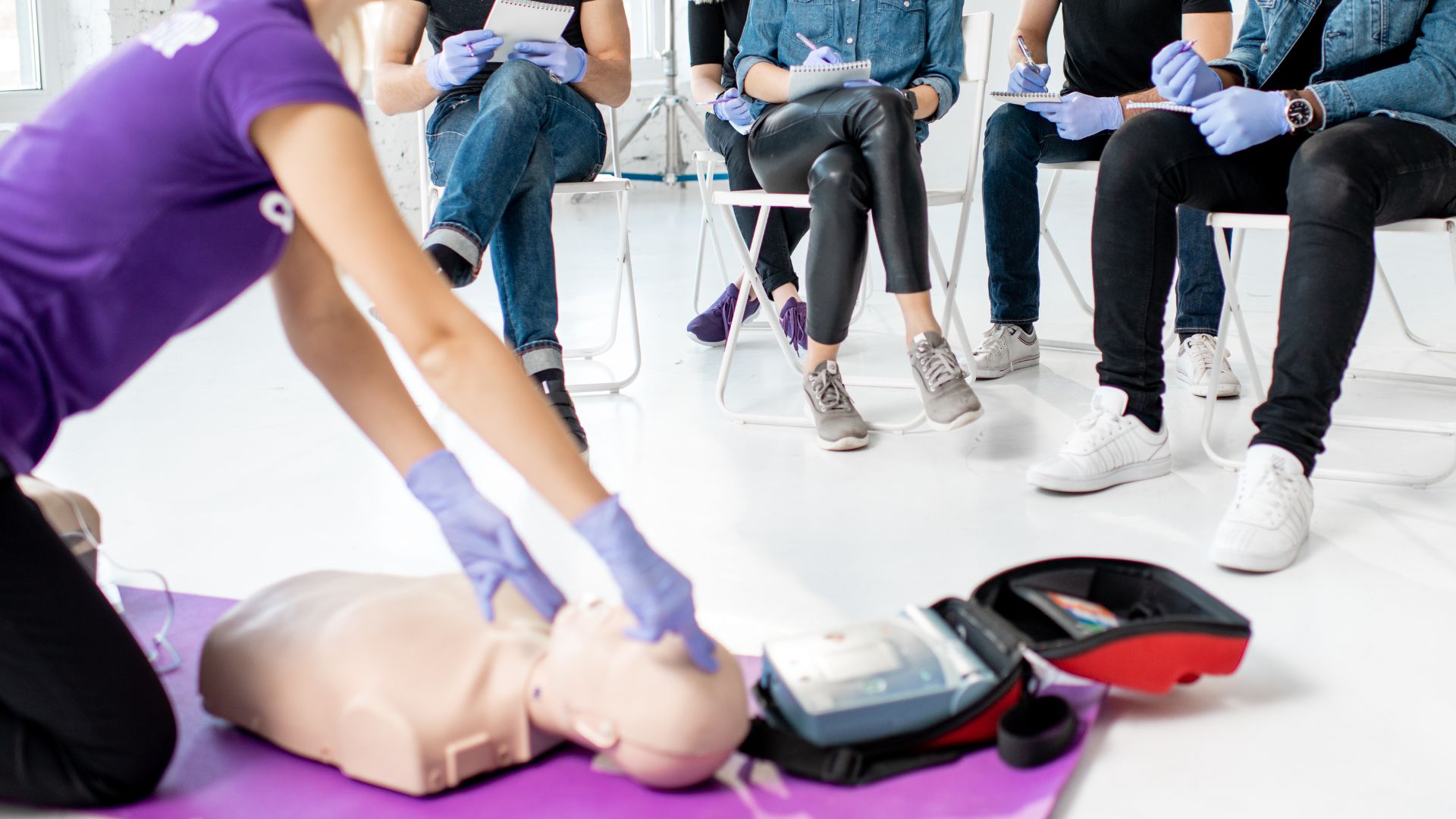 The essential method of cardiopulmonary resuscitation (CPR) can help someone experiencing a sudden cardiac arrest. Anybody who has received CPR training understands how crucial it is to be able to carry out this life-saving technique correctly. But, with time, CPR abilities can deteriorate and become outdated, which is why it's so important to get a regular CPR refresher course and update your CPR knowledge and skills.
Maintaining your CPR certification includes upgrading your abilities and understanding the most recent procedures and rules. Training is a crucial stage in preserving your capacity to save lives and could be necessary for some occupations, such as those of a healthcare professional, a first responder, or a lifeguard.
The distinctions between CPR recertification and refresher courses, how frequently recertification is necessary, where to get lessons, and what to anticipate throughout the recertification process are all topics that we will cover. This article you will provide a comprehensive understanding of CPR renewal and its importance in helping save lives.
Benefits of CPR Recertification
If you've taken CPR training before, you are familiar with how to perform this crucial maneuver. Yet, as time passes, your abilities might grow rusty; therefore, it's critical to renew your CPR certification routinely. Far beyond meeting professional requirements, CPR recertification provides multiple benefits, such as:
Maintaining and improving skills and confidence needed to perform CPR effectively in an emergency.
Helping individuals stay informed about any changes in CPR guidelines and techniques.
Increasing the chances of the victim's survival and minimizing the risk of permanent brain damage caused by a lack of oxygen.
Demonstrating an individual's commitment to their profession and willingness to maintain their skills and knowledge.
Can be a requirement for many healthcare, education, and emergency services jobs.
The fact that CPR recertification aids with maintaining and enhancing your abilities and confidence to perform CPR in an emergency is one of its most important advantages. You can perform CPR more successfully and efficiently by regularly practicing it. Staying up to speed on the most recent recommendations and methods is also required since providing the victim with the best chance of survival is crucial.
CPR Recertification vs. CPR Refresher Courses
When renewing your CPR certification, there are two main options: CPR recertification and CPR refresher courses. While CPR refresher classes are shorter and concentrate on refreshing your skills, CPR recertification often entails a complete course and testing.
You may take a CPR refresher course for personal reasons to remain up to date, but most organizations usually require CPR recertification. While both options can help you maintain your skills and keep up-to-date with the latest guidelines, there are some key differences to consider.
CPR Recertification
CPR recertification involves retaking a full CPR course, including a skills evaluation and a written exam. This option is typically recommended for individuals who have not taken a full CPR course in several years or must meet specific professional requirements.
During a CPR recertification course, you will have the opportunity to refresh your knowledge of key concepts and techniques and practice your skills with a CPR mannequin.
CPR Refresher Course
On the other hand, CPR refresher courses are shorter courses that focus on reviewing key CPR skills and providing updated information on the latest guidelines and procedures. This option is often recommended for individuals who have recently completed a full CPR course but want to stay current on their skills.
A CPR refresher course may also be a good option for those who have not used their CPR skills for some time and want to brush up on their knowledge.
How Often is CPR Recertification Required?
Different CPR recertification requirements may apply depending on the business and the individual's job position. Most CPR certifications are typically only good for 2 years after which they need to be renewed.
As was already indicated, the American Red Cross advises lay responders and healthcare professionals to renew their certificates every one to two years. The American Heart Association, on the other hand, mandates recertification for medical professionals every two years.
It's crucial to keep in mind that there are situations in which CPR renewal may be needed more regularly. Professionals may need to renew their certification more often if they operate in a high-risk setting with frequent emergencies. Similarly, those who often utilize their CPR abilities might need to renew their certification more frequently to keep it valid.
Keeping up with any state-specific rules that may apply to CPR certification and renewal is also crucial. While some jurisdictions may have stricter requirements, such as in-person training or extra certification courses, others may have more frequent renewal requirements. It's important to check with your employer for particular information since they may have their own standards regarding CPR certification and renewal.
In conclusion, the need for CPR renewal varies depending on the company, the function, and the laws of a particular state. While the majority of CPR certifications have a two-year expiration date, individuals whose work involves fast reactions during emergencies or who often utilize their CPR abilities may need to renew their certification more frequently. Educating yourself about any special rules and requirements to keep your CPR certification current and valid.
Finding CPR recertification Classes
CPR recertification is important to ensure that individuals remain prepared to handle emergency situations. Luckily, there are many available course options. One of the easiest ways to find a CPR recertification course is to check with the organization that issued the original certification. For example, the American Heart Association (AHA) and the American Red Cross (ARC) both offer CPR recertification classes.
Another option is to check with local hospitals, community centers, and fire departments. These organizations often host CPR recertification classes or can direct individuals to classes in the area. Additionally, online searches can help individuals find local or online CPR recertification classes. Keep in mind that the classes should be offered by reliable providers who are accepted by your employer. Make sure they have certified instructors who deliver the courses.
Individuals should decide whether they prefer online or in-person instruction when considering CPR renewal classes. Online courses may be more flexible and convenient, but they may not provide the same level of hands-on practice as in-person classes. In-person classes, on the other hand, provide more opportunities for hands-on practice and direct feedback from instructors.
What to Expect During CPR recertification
The format and content of CPR recertification courses can vary depending on the organization providing the course. However, most courses will include both a skills evaluation and a written exam.
During the skills evaluation, individuals will be asked to demonstrate their ability to perform CPR and other life-saving techniques. Instructors will observe and provide feedback to help individuals improve their technique and confidence.
The written exam will test individuals' knowledge of CPR techniques, emergency response procedures, and other related topics. Individuals should review CPR guidelines and practice with CPR practice exams and quizzes to prepare for the written exam.
In summary, CPR recertification classes are important to maintaining preparedness for emergency situations. By finding the right class and preparing appropriately, individuals can renew their certification and feel confident in their ability to respond to emergencies.
Common Questions and Concerns
If you are considering CPR recertification, you may have some questions or concerns. Here are some common ones that people often ask.
How much does CPR recertification cost?
The cost of CPR renewal varies depending on the organization providing the training, the course type, and whether the course is attended online or in-person. On average, CPR recertification can cost anywhere from $40 to $150.
How long does it take to complete?
The length of CPR recertification courses can vary from a few hours to a full day, depending on the course format and content.
What happens if I fail the exam?
In the event that you fail the exam, most organizations allow you to retake it at an additional cost. It's important to note that preparation and studying beforehand can help you pass the exam on the first try.
Overall Summary
In conclusion, CPR recertification is essential to maintaining the skills and knowledge necessary to respond effectively in emergency situations. Renewing your CPR certification can help you feel more confident and prepared to handle unexpected medical emergencies.
It's crucial to select a course that works with your schedule and educational preferences, whether you decide to attend an online or in-person course. Note that each group has different standards for CPR recertification, so make sure to check with the right organization to make sure you comply. You can contribute to ensuring the safety and well-being of people around you by maintaining your CPR certification.